The music scene in Ireland is as diverse as it is rich. From trad to modern pop music, Ireland has truly made it's mark in music around the world. Let's explore the history of music in Ireland.

We can't talk about Irish music and not mention the harp. The harp has become symbolic of Ireland and although not exclusive to Ireland, it became the national emblem. In the Middle Ages harp players in Ireland were once an elite member of society and would play at feasts and gatherings. This rapidly changed and the popularity of the harp declined after Queen Elizabeth I ordered all harps to be destroyed in an attempt to subdue Ireland.
Harp playing almost became extinct but thanks the Belfast Harpers Assembly in 1792, a man named Edward Bunting recorded down notes and techniques of the few remaining harpers. Without this event these songs would have been lost forever. The oldest harp in the world resides in Trinity College Dublin.
Trad music is still very much alive and well in Ireland. All you have to do is walk through any Irish town to find that out! Trad is a type of folk music usually involving many musicians playing instruments like the Gaelic harp, tin whistle, fiddle, flute, or bodhrán.
Trad emerged in Ireland in the 1700s and spread across the Atlantic through immigration. This event led to a huge revival centuries later just when trad music in Ireland was in decline. Recordings emerged from America in the 1920s and songs were played much faster than those played in Ireland.
In the 60s musicians like The Clancy Brothers and Tommy Makem in America were key figures in popularising trad music and influenced a great number of Irish musicians to come including the Dubliners and Planxty, but it was composer Seán Ó Riada that was responsible for making trad widespread throughout Ireland.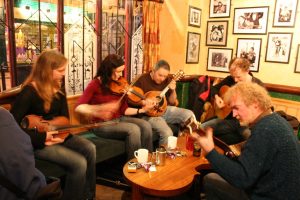 Trad music has diversified a lot since then and new age trad genres have emerged thanks to the likes of Sinead O Conner creating a reggae fusion and The Pogues and Dropkick Murphy's with a fusion of punk. And let's not forget Enya who is a genre all on her own.
The 60s also saw many Irish international acts emerge and has been going strong ever since. Rockers include Thin Lizzy, U2, Rory Gallagher and The Cranberries, just to name a small few. And there's Van the man – the legendary soul artist Van Morrison.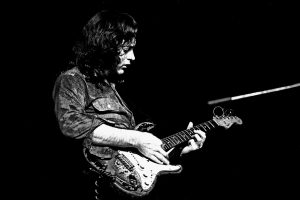 Ireland has produced many of the worlds most beautiful singer song writers including Damien Rice, Lisa Hannigan, Glen Hansard and Hozier. It has also produced its fair share of pop sensations like Westlife , Boyzone and the Corrs.
Ireland has also won the Eurovision Song Contest many times, in fact Ireland holds the record for the highest number of wins.
For a country so small, Ireland has contributed greatly to the world of music. As we like to say: there must be something in the water!