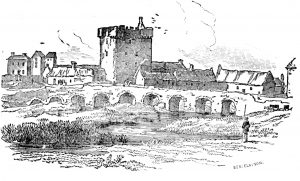 It is estimated that there are around 30,000 castles and castle ruins scattered throughout Ireland. It is something that us Irish take for granted, but we are incredibly lucky to be surrounded by these ancient structures. Castles are a big draw to Ireland for many tourists so here are just a few that are worth visiting during your stay.
Ashford Castle
Ashford Castle is arguably the most beautiful castle in the west. Located on the Galway Mayo border, Ashford is now one of the leading hotels of the world. It was built in 1228 by the house of Burke. The castle exchanged hands numerous times over the centuries and in the 1800s was purchased by Sir Benjamin Lee Guinness of the Guinness dynasty who added two Victorian extensions to the castle. He was also responsible for planting thousands of trees, many with still stand today. No words can do justice to the beauty of the castle and its surroundings. Many royals, politicians and stars have stayed at the castle over the years.
Bunratty Castle
Bunratty Castle and folk village in County Clare is one of the most popular tourist attractions in the west of Ireland. It was built in 1425 and beautifully restored in the 1950s.
The castle and folk park give you a picture of what life must have been like back then. The castle itself is furnished with authentic medieval furniture and tapestries. You can explore the castles bedrooms, banquet room and even get a glimpse of the dungeon. It is a must see during your trip to Ireland.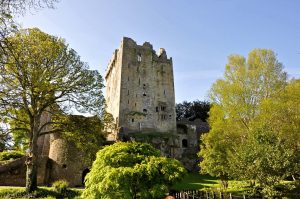 Blarney Castle
Built in 1210 in Cork, Blarney Castle is one of the souths most popular tourist attractions. It is partly in ruin but many rooms are still intact. It is of course home to the famous Blarney stone. If kissed upside down, the stone is said to give the gift of eloquence. Blarney offers a lot more than the Blarney Stone. It's surroundings are exquisite and there are plenty of interesting nooks and crannies to explore.
Dublin Castle
Dublin Castle was first built in the 13th century but was rebuilt numerous times since. It has served many purposes over the years including a stronghold, a prison, an army barracks and a library to name just a few, but it mostly served as a seat of the British government's administration in Ireland until 1922 when it was handed over to Irish hero Michael Collins who represented the Irish Free State. When it was commented on that Collins was seven minutes late he famously replied "We've been waiting over 700 years, you can have the extra seven minutes".
There you can see the medieval tower, the Chester Beatty Library, Dubhlinn Gardens, and the Viking & Medieval excavations. The Assay office is also located in Dublin castle where gold and silver are hallmarked.
Dungaree Castle
Located in the picturesque village of Kinvara, Co. Galway, Dungaree is en route to the Burren and is most definitely worthy of a visit.
It was first built in 1520 as a tower house and later constructed as a castle. It passed from many clans until 1924 when Oliver St. John Gogarty bought it and restored it to its former glory. A great lover of literature, he invited many famous writers to stay there such as W. B. Yeats, J. M. Synge and George Bernard Shaw.
The castle is supposed to be the most photographed castle in Ireland with its picturesque backdrop of Galway Bay.
These are just a few castles of Ireland but you never have to go too far to find one. Each one unique and steeped in history, go and find out for yourself.