If you want to spend some time exploring Galway city we highly recommend taking your own walking tour. From Bohermore to the Cathedral, the past of Galway is very much visible and you can learn a lot about Galway's rich and exciting history.
A history buff or not, Bohermore Victorian cemetery is well worth a visit. Here you will find elaborate vaults, crypts and headstones. Some notable residents include: Lady Gregory, Lord Haw Haw and Pádraic Ó Conaire.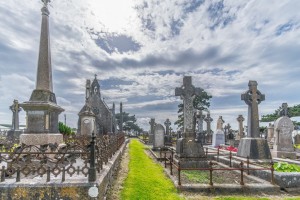 On the other end of Bohermore you will enter Eyre Square. It was once the entrance to the walled medieval city of Galway. You can see the Browne Doorway in Eyre Square. This was the elaborate entrance to the home of one of the city's famous merchant families, although it is not in the original location. John F. Kennedy visited and made a speech in Eyre Square during his visit in 1963.
A stone's throw away from Eyre Square is Lynches castle, a large medieval stone building on shop street. This building was home to another wealthy merchant family. The elaborate stone work seen on the building demonstrates the wealth of these families during this time. It is the only merchant home that is left fully intact.
Around the corner from Lynches castle you will find a peculiar stone wall with skull and bones carved into it. This is known as Lynch's Memorial Window. Legend has it that in 1493 Mayor James Lynch FitzStephen hanged his own son for the murder of a Spaniard at the window of his home. Allegedly the term "lynching" came about from this event.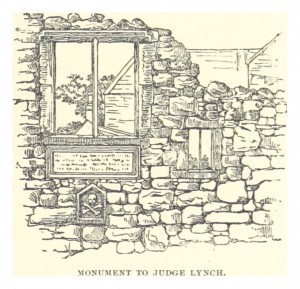 Behind this window stands the magnificent St. Nicolas Church, a church that embodies the rich history of the town. This church stood tall and mighty in the small medieval town of Galway and had been visited by many over the centuries including Christopher Columbus. It houses relics from the past such as tombs and stone carvings.
At the end of the lane you will find Legend of the Claddagh Ring visitor centre. Here you can learn about the romantic love story between Richard Joyce and his one true love of how the Claddagh ring came to be.
As you make your way down Quay street you will come across another Claddagh ring museum. You will find lots of Claddagh Ring memorabilia including the world's smallest Claddagh Ring.
A small detour off Quay Street will lead you to The Hall of the Red Earl, a hall erected by Richard de Burgo in the 13th century. The building acted as a banquet hall, courthouse and tax office. It fell into ruin and was forgotten about until the 1990s when it was accidentally discovered along with over a thousand ancient artifacts.
At the end of bustling Quay Street you will find Blake's castle, another townhouse once belonging to the Blake family. It was at a time used as a jail.
The Spanish Arch is another part of the old city walls. The arch that remains was once used to protect the quays against looting. Soldiers guarded it from above with cannons.
Behind the Spanish arch you will find the Galway City Museum. It features a broad history of Galway and houses many artifacts from days gone by.
Lastly, if you cross the scenic Salmon Weir bridge, you will come to Galway's cathedral. It's location was originally the site of the old city jail. It's interiors are something to behold. It features large pillars and marble floors and altars. It's stained glass windows and painting ceiling are nothing short than breathtaking. Opened in 1965, it is one of Europe's youngest cathedrals.
A short walk around Galway can reveal a wealth of rich local history, and it doesn't cost a penny, so next time you have some time on your hands, go explore the fascinating history of Galway.