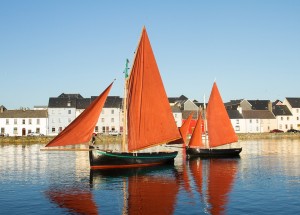 Galway Hookers were types of fishing boats used in the west of Ireland. Its name is derived from "hook and line" fishing. Its unique design allowed to be used in rough seas as they were robust yet agile.
The boats are distinct because of their colours. The hull is black, given as they were frequently coated in tar. The three sails are maroon, a colour achieved by soaking them in a special solution made from tree bark to make them strong and durable.
There are four types of Galway Hooker, all used for different purposes. The biggest was approximately 44 feet long and the smallest was approximately 24 feet long. The four boats were named: Bád Mór, Leathbhád, Gleoiteog and Púcán.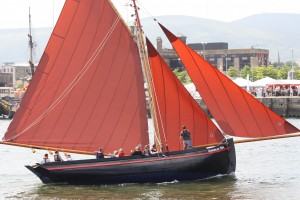 The boats were used by Claddagh fishermen but the local fishing trade went into rapid decline when trawlers entered the Irish sea. Many of the boats were sold off or left to deteriorate.
There has been a revival in the interest in these beautiful boats in recent years. Numerous annual events celebrate these boats such as theCruinniú na mBád festival in Kinvara and the Claddagh Traditional Boat Festival.
The boat can be seen on the county Galway coat of arms. If you visit Eyre square you will see a Galway Hooker monument on the fountain. The boat has become synonymous with Galway and the revival has sparked interest in the history of Galway and our maritime culture.